If you purchased or upgraded PHPRunner, or ASPRunner.NET less than one year ago logon to control panel and find download links and registration keys under 'My purchases'. There should be 'Reg info' link next to your latest upgrade purchase.
Note: Software maintenance coverage needs to be continuous. If your last purchase or upgrade were more than one year ago you have till June 20, 2019 to renew your maintenance. After that date you will have to purchase PHPRunner, ASPRunner.NET or ASPRunnerPro at the full price.
New customer purchase links:
PHPRunner
ASPRunnerPro
ASPRunner.NET
Upgrade/maintenance renewal links:
PHPRunner
ASPRunnerPro
ASPRunner.NET
What's new in version 10.2
Collapsible menu bar
Hide/collapse menu bar on the left. This feature is inspired by AdminLTE template.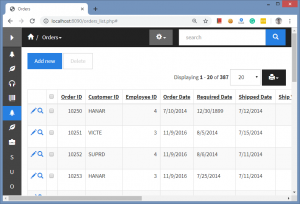 Continue Reading

"Version 10.2 of PHPRunner, ASPRunner.NET and ASPRunnerPro is here"